Winter Park Fire-Rescue Department
Dan Hagedorn, Fire Chief
Welcome to the Official Winter Park Fire-Rescue Department website. Our goal is to provide as much information as possible about our services and maintain an open means of communication with our community. We hope that the site exceeds your expectations. As always, we stand ready to serve.
Winter Park Fire-Rescue Department, WPFD, is a full-service, high-performance emergency service agency. Our history of dedicated service dates back to the founding of our community more than 120 years ago.
Today, WPFD is one of the most respected high-performing fire and emergency medical service providers in the country. WPFD is accredited through the Commission on Fire Accreditation International and the Commission for the Accreditation of Ambulance Services. The Department has received a fire protection classification rating of Class 1 from the ISO. Our firefighters and staff believe in providing our citizens with the absolute best and highest level of service.
Winter Park Fire-Rescue Department Mission
To protect and preserve our community through prompt, professional delivery of services, teamwork, and partnerships.
City of Winter Park Emergency Updates
Recent News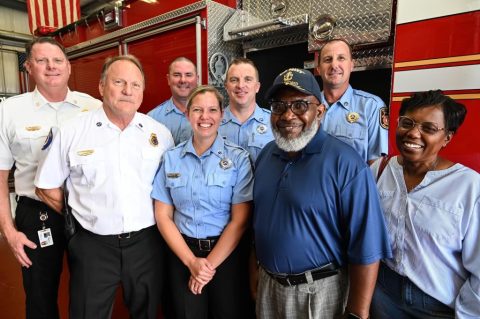 Posted on 08/04/2023
Hard to believe that this delightful, full of life, military veteran – could ever lose his rhythm. But on March 30, that's exactly what happened.  An Apopka resident, Mr. Robinson was traveling through Winter Park during the morning commute hours… Read More
Join Our Newsletter
Join our newsletter to receive timely news and updates about all the goings-on in our community.